CCD Tea Color Sorting Machine Manufacturer TCSV4 – Metak Color Sorter
Full Color CCD Tea Color Sorting Machine Manufacturer TCSV4
---
Technology Data:
| | |
| --- | --- |
| Model | TCSV4 |
| Output(kg/h) | <800 |
| Carryover (bad: good) | 》5:1 |
| Accuracy (%) | 99% |
| Voltage (V/Hz) | 380/50 |
| Power (Kw) | 6.8 – 8.6 |
| Air pressure (Mpa) | 0.6-0.8 |
| Consumption (L/min) | <5400 |
| Weight (Kg) | 3286 |
| Dimensions (mm) | 2676*2530*3432 |
---
CCD Tea Color Sorting Machine Features:
1. Design of mechanical-electrical integration: The integration of sorting cabinet and electrical cabinet results in a more stable overall mechanical structure, prolonging the service life of the machine and making the maintenance much easier.
2. The original material-distributing system in the industry:,The latest-designed Bridge-type material-distributor is featured with low noise, low jitter amplitude, high vibration frequency, and more even sorting, settling the problems of uneven sorting and underproduction, which are often seen in currently-used material-distributor matched with three-tier tea-sorting machine.
3. Utilization of air cooling system ,This system settles the problems of high temperature, heavy energy loss, light source instability, and short service life which are caused by a longtime-working LED light source.. In addition, the system ensures an endurable light source used in a constant temperature.
4. Solution of independent sorting mode,For each tier, a sorting solution of either color-based or shape-based can be set separately, and a combining sorting solution of color&shape-based can also be chosen. You can choose the solution freely.
5. Unique design of broadening sorting chamber,This design can solve the problem of partial tea-sorting caused by swirling air, increase the output and reduce the crashed rate during the course of tea sorting.
6. The original blowing nozzle, together with the valve-driven mode, helps to accelerate the response speed, strike more accurately, reduce the material taking-out ratio, increase the output, as well as decrease gas consumption by 20%.
7. Cloud object link system,Autonomous cloud control, cloud computing technology, the realization of online operations, online monitoring, online services, free upgrades.
8. The original design of intelligent LED shadow less cold light source system, having a light emitting rate is high, the use of longer and stronger anti disturbance, and easier to identify, judge more easily, don't more precision characteristics, meet a variety of tea 360 degree of shape and color selection requirements.
9. The world's top custom industrial CCD sensor and color selection of the lens, high-definition imaging technology, taking pictures of the selected tea images, can be selected in the different color and shape of the tea to define the color. The minimum resolution in the range of o.o8MM2, the tiny spots, black spots signal amplification processing needle.
10. The three layer structure, the integration of a combination of a complete separation, improve the color accuracy, reduce the broken rate. At the same time, convenient installation and daily maintenance, to meet the needs of different customers sorting.
---
Example of Sorting: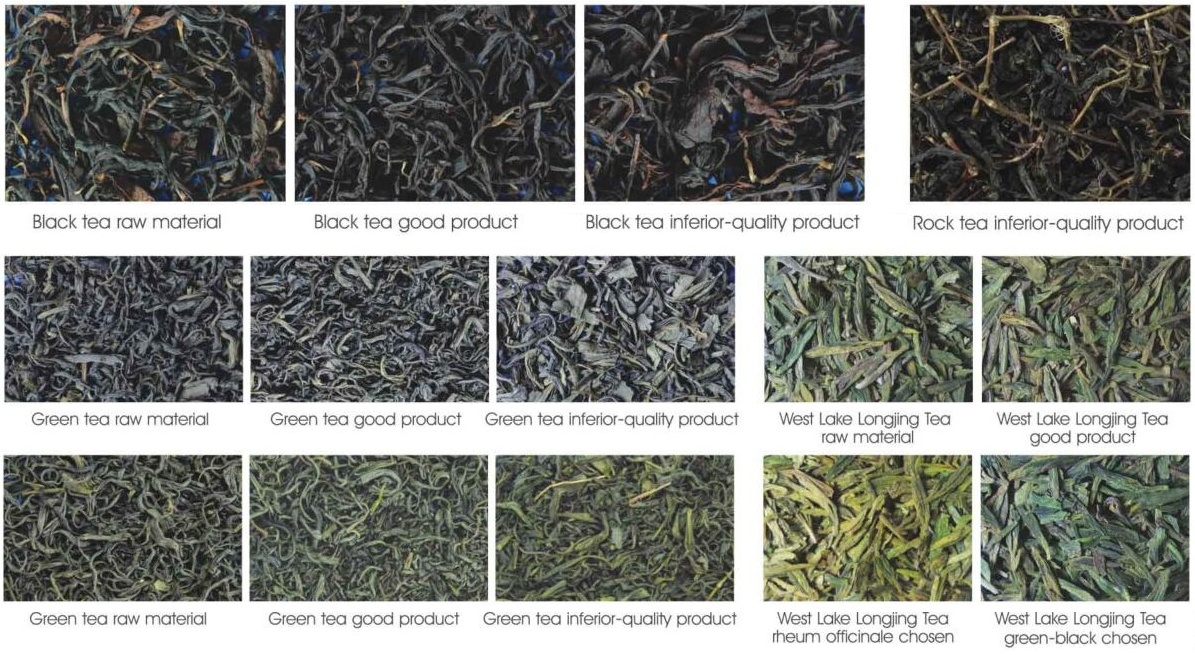 ---
Packaging & Shipping
Machines to be carefully packaged to endure transportation under harsh conditions. Handling instructions are designed to protect the machine in the critical moments during transportation, unloading and installation.
Delivery Time: 20- 30 Days after order confirmed.
Payment Terms: TT, Letter of Credit.
---
Commissioning and Installation:
1. On Site Installation and Training Service by our professional engineer ;
2. Study and Learn the Machine Operation in Our Factory.
3. Responsive in 24 hours: Telephone, Email, Video or On Site Solutions by our Technical Experts.
---
After Sales Services: 
• With presence in a variety of countries, Metak is strongly committed to being close to the customer.
• Through cooperation with loyal and carefully evaluated and trained local employees and partners, Metak managed to provide fast, competent and rooted services in the context of customers.
• Application center in Hefei production base offer demo machines for tests and comparison.
• A strong central technical team in Hefei is supporting local channels with training, advice and technical support.
• Under normal working circumstances, Metak machines enjoy 1 year of full warranty and a lifelong warranty on the machine structure upon the date of purchase.
• Service line is available for emergency support.
• Metak products will be serviced and supported wherever customers are located.
• Through the global Metak network and from Metak technical experts, training on Metak machines is available worldwide.
Tea Color Sorter System Working Video
How does the Metak Tea Color Sorting Machine Work?
According to the different color selection of materials, detecting the colors of the granular materials that pass before them, and using mechanical or pneumatic ejection devices to divert the material whose colors do not fall within the acceptable range.
Suitable rice sorting and grading: All kinds of Tea Leaves.
---
How Metak Tea Color Sorter Machine Can Help you?
1. A Quality and Professional Color Sorter Supplier, Save your Money and Time.
2. Recommend a Better Solution only Meet Your Requirement: Raise the Output and Accuracy with Lower Cost.
3. Perfect After-Sale Service: On Site Installation; Engineers Training Course till You Learn; Video Instruction Guide; Response in 24 hours.
 Get Your Solutions with Metak Tea Color Sorter Machine, Inquiry us NOW!
---