Double-Track CCD Plastic Color Sorter
Double-Track CCD Plastic Color Sorter Technology Data:
| | |
| --- | --- |
| Model | BCSD1280 |
| Output(t/h) | 3-8 |
| Carryover (bad: good) | 15:1 |
| Accuracy (%) | 99.99% |
| Voltage (V/Hz) | 380/50 |
| Power (Kw) | 8.5-11 |
| Air pressure (Mpa) | 0.6-0.8 |
| Consumption (L/min) | <4600 |
| Weight (Kg) | 3050 |
| Dimensions (mm) | 3441*1986*2503 |
---
Double-Track CCD Plastic Color Sorter Features:
1, The unique suction ventilation system
You can remove dust and other raw materials in the ethereal substance, to ensure that the lens identification, higher color sorting accuracy.
2, The image acquisition system
Full-color high-definition CCD camera image acquisition system, the material (RGB) red, green, and blue color information to obtain a comprehensive, small depth to identify and elaborate common color sorter can not choose other impurities.
3, Cloud IOT system
Independent cloud control, cloud computing technology, online operations, online monitoring, online services, free upgrades.
4, The introduction of LED Air Cooling
Solve the LED light source due to prolonged use of high temperature, short life and other issues, ensuring constant LED light source durable.
5, the image processing system
International high-end full-color line scan technology, DSP + FPGA international advanced processing technology, combining a variety of colors and shapes with pattern intelligence complex algorithm to provide for different materials "color option + shape selected" solution, a variety of modes set free.
6, The solenoid valve
Intellectual property rights and the development of color sorter dedicated solenoid valve; special high-strength materials, strong suction, no residual magnetism, linear gas against precision, high consistency, significantly lower than the band; frequency of 1200hz per second or more, and most fast response time of 0.6ms; the life of 50-100 million times.
7, The operating system
Intelligent operating platform, easy to operate, easy to master, the real man-machine dialogue, intelligent docking, sit back and relax.
8, Intelligent functional design air curtain
Through the fan blowing system, resulting in high-speed airflow lens front glass dust, ethereal, etc. quickly remove to ensure that the resolution and color sorting accuracy.
9, Double-sorting mode
According to customer demand to achieve the flexibility to set the upper sorting waste, finished lower were able to check again, no need to replace the function of the hopper.
The technical characteristics
1, The broad scope of application
①, Belt color sorter meet chute color sorter color sorting outside the range, the buoyant, irregular, fragile materials such as color selection to provide satisfactory solutions to address these special materials due to their own gravity heavy falling speed of light can not reach color sorting requirements problems conveyor belt speeds up, <4m / s, to effectively meet the requirements for color selection effect and yield requirements. ②, 5088 full-color line scan technology, a combination of color and spatial algorithms for different materials to provide "color selection + shape selected" function, multi-mode set free, 10,000 kinds of materials arbitrarily selected. 2, A powerful color selection function ①, According to the characteristics and needs of the material, optional special shatterproof material fight, reduce fragmentation rate. ②, Optional import and homemade high-end professional solenoid valve solenoid valve, blow accurate, effective life of 50-100 million times. ③, Double-track structure - for hetero higher, multi-colored material, without replacing the hopper can be flexibly set - waste, finished Jieneng multiplexing alternatives, sorted and disposable materials required. ④, International high-end industry-specific lenses, each sorting box with up-down means are mirrors, choose a higher net rate.
---
Example of Sorting: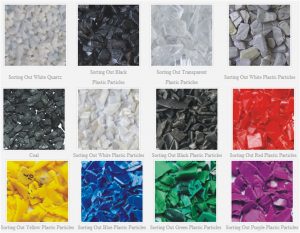 ---
Packaging & Shipping
Machines to be carefully packaged to endure transportation under harsh conditions. Handling instructions are designed to protect the machine in the critical moments during transportation, unloading and installation.
Delivery Time: 20- 30 Days after order confirmed.
Payment Terms: TT, Letter of Credit.
---
Commissioning and Installation:
1. On Site Installation and Training Service by our professional engineer ;
2. Study and Learn the Machine Operation in Our Factory.
3. Responsive in 24 hours: Telephone, Email, Video or On Site Solutions by our Technical Experts.
---
After Sales Services: 
• With presence in a variety of countries, Metak is strongly committed to being close to the customer.
• Through cooperation with loyal and carefully evaluated and trained local employees and partners, Metak managed to provide fast, competent and rooted services in the context of customers.
• Application center in Hefei production base offer demo machines for tests and comparison.
• A strong central technical team in Hefei is supporting local channels with training, advice and technical support.
• Under normal working circumstances, Metak machines enjoy 1 year of full warranty and a lifelong warranty on the machine structure upon the date of purchase.
• Service line is available for emergency support.
• Metak products will be serviced and supported wherever customers are located.
• Through the global Metak network and from Metak technical experts, training on Metak machines is available worldwide.
Metak Plastic Color Sorter Machine Working Video
How does the Metak Plastic Color Sorter Machine Work?
According to the different color selection of materials, detecting the colors of the granular materials that pass before them, and using mechanical or pneumatic ejection devices to divert the material whose colors do not fall within the acceptable range.
Suitable Plastic sorting and grading: All kinds of Plastic.
---
How Metak Plastic Color Sorter Machine Can Help you?
1. A Quality and Professional Color Sorter Supplier, Save your Money and Time.
2. Recommend a Better Solution only Meet Your Requirement: Raise the Output and Accuracy with Lower Cost.
3. Perfect After-Sale Service: On Site Installation; Engineers Training Course till You Learn; Video Instruction Guide; Response in 24 hours.
 Get Your Solutions with Metak Plastic Color Sorter Machine, Inquiry us NOW!
---
Check More Images of Metak Plastic Color Sorter Machines: