Metak Grain Dryer Equipment for Sale
Metak Grain Dryer Equipment for Sale
1. Larger than 30% drying area, compared with common grain dryer machine.
2. Drying smoothly and averagely.
3. Solid Burner, indirectly provide heat. paddy and grains are heated continuously.
4. Low temperature circulating drying, effectively reduce 90% breakage of grain, and improve the quality of grain.
5. Automatic display showing working condition of dryer, easy operation
6. Drying process average, easy clean, no mixing other seeds.
7. Use the famous brand moisture tester, automatic test moisture, auto-off after reach the specified value.
8. Connection bearings are all designed as low rotating speed, three-layer of protection device which keep away dust from outside during rotating.
9. To improve centrifugal blower and axial flow blower into mix flow air fan, maximum air volume reach to 17500m3/h, full pressure reach to 950pa, effectively improving the drying with lower noise.
10. The auger vanes uses 45 manganese steel, hardness reach to HRC50 after treatment
Grain Dryer Technology Data: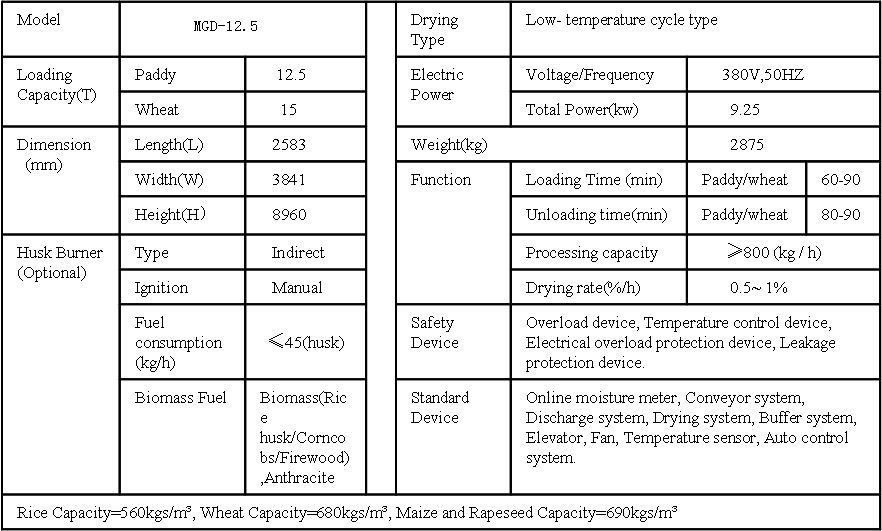 Metak Grain Dryer Equipment Features:
The dryer provides various drying modes to dry grain as per the requests of customers. It can be equipped with different heating sources such as air heating furnace, fuel oil furnace, steam boiler, etc.
For the drying system with hot blast furnace, the cheap fuel can be used as rice husk, straw, coal, etc. In this way, the drying cost can be greatly reduced.
Imported from Italy, the burner uses high voltage mist sprayer. Light or heavy diesel can be used as fuel, the oil is burnt well and completely to protect grain from being polluted. The burner is controlled by the automatic controlling system to heat up the air, according to the drying system.
---
Packaging & Shipping
Machines to be carefully packaged to endure transportation under harsh conditions. Handling instructions are designed to protect the machine in the critical moments during transportation, unloading and installation.
Delivery Time: 20- 30 Days after order confirmed.
Payment Terms: TT, Letter of Credit.
---
Commissioning and Installation:
1. On Site Installation and Training Service by our professional engineer ;
2. Study and Learn the Machine Operation in Our Factory.
3. Responsive in 24 hours: Telephone, Email, Video or On Site Solutions by our Technical Experts.
---
After Sales Services: 
• With presence in a variety of countries, Metak is strongly committed to being close to the customer.
• Through cooperation with loyal and carefully evaluated and trained local employees and partners, Metak managed to provide fast, competent and rooted services in the context of customers.
• Application center in Hefei production base offer demo machines for tests and comparison.
• A strong central technical team in Hefei is supporting local channels with training, advice and technical support.
• Under normal working circumstances, Metak machines enjoy 1 year of full warranty and a lifelong warranty on the machine structure upon the date of purchase.
• Service line is available for emergency support.
• Metak products will be serviced and supported wherever customers are located.
• Through the global Metak network and from Metak technical experts, training on Metak machines is available worldwide.
 Get Your Solutions with Metak Grain Dryer Equipment, Inquiry us NOW!
---