Optical CCD Color Sorter Cashew Grading Machine
Optical CCD Color Sorter Cashew Grading Machine BCS1600B – Metak Color Sorting
Technology Data:
| | |
| --- | --- |
| Model | BCS1600B |
| Output(t/h) | 3.2-9 |
| Carryover (bad: good) | 15:1 |
| Accuracy (%) | 99.99% |
| Voltage (V/Hz) | 380/50 |
| Power (Kw) | 3.7-6.5 |
| Air pressure (Mpa) | 0.6-1.0 |
| Consumption (L/min) | <2560 |
| Weight (Kg) | 1900 |
| Dimensions (mm) | 3108*2306*1680 |
---
BCS1600B Optical CCD Color Sorter Cashew Sorting Machine Features:
1) The particular light difference sorting model works great on the light beige, speckled and dark rice. The first time sorting effect can reach 1:1, the recycling carryover can reach 15:1, and it can reject the difference without rejecting the belly white rice. This technique is absolutely the most advanced in this industry.
2) Under the belly white model, the first time sorting carryover is above 1:1, the recycling carryover is above 25:1.
3) The top international DSP+FPGA process technique ensures the high working efficiency and accurate calculating, and it is easy to be ungraded and maintained.
4) Top international 2048 high-speed line scan CCD image sensors and tailor-made American cameras make sure that 0.04mm2 tiny scab can be precisely identified.
5) The newest smart LED cold light sources with no shadow make the recognition easier and the sorting more precise, and it is endowed with long serving life and no need to preheat.
6) The LED air cooling system significantly increases the service life of LED.
7) The only one in this industry who own intellectual property on the solenoid valve, our valves are made of Special high strength material, it has the advantages of strong sucking ability, no residual magnetism, linear flow, price blow, high consistency, the t working frequency can reach 1200HZ per second, the shortest response time can be 0.6ms, and the service life can reach 5-10 billion times. They can greatly decrease the carryover, cut 20%-30% of air consumption.
---
Example of Sorting: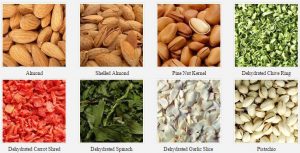 ---
Packaging & Shipping
Machines to be carefully packaged to endure transportation under harsh conditions. Handling instructions are designed to protect the machine in the critical moments during transportation, unloading and installation.
Delivery Time: 20- 30 Days after order confirmed.
Payment Terms: TT, Letter of Credit.
---
Commissioning and Installation:
1. On Site Installation and Training Service by our professional engineer ;
2. Study and Learn the Machine Operation in Our Factory.
3. Responsive in 24 hours: Telephone, Email, Video or On Site Solutions by our Technical Experts.
---
After Sales Services: 
• With presence in a variety of countries, Metak is strongly committed to being close to the customer.
• Through cooperation with loyal and carefully evaluated and trained local employees and partners, Metak managed to provide fast, competent and rooted services in the context of customers.
• Application center in Hefei production base offer demo machines for tests and comparison.
• A strong central technical team in Hefei is supporting local channels with training, advice and technical support.
• Under normal working circumstances, Metak machines enjoy 1 year of full warranty and a lifelong warranty on the machine structure upon the date of purchase.
• Service line is available for emergency support.
• Metak products will be serviced and supported wherever customers are located.
• Through the global Metak network and from Metak technical experts, training on Metak machines is available worldwide.
How does the Metak Optical CCD Color Sorter Cashew Grading Machine Work?
According to the different color selection of materials, detecting the colors of the granular materials that pass before them, and using mechanical or pneumatic ejection devices to divert the material whose colors do not fall within the acceptable range.
Suitable Cashew sorting and grading: All kinds of Cashew.
---
How Metak Optical CCD Color Sorter Cashew Grading Machine Can Help you?
1. A Quality and Professional Color Sorter Supplier, Save your Money and Time.
2. Recommend a Better Solution only Meet Your Requirement: Raise the Output and Accuracy with Lower Cost.
3. Perfect After-Sale Service: On Site Installation; Engineers Training Course till You Learn; Video Instruction Guide; Response in 24 hours.
 Get Your Solutions with Metak Cashew Color Sorter Machine, Inquiry us NOW!
---
Check More Images of Metak Cashew Color Sorter Machines: