Tea Color Sorter Manufacturer TCSM-64B – Metak Color Sorting
Tea Color Sorter Manufacturer TCSM-64B – Metak Color Sorting:
Features:
•       the integration of the electromechanical design.
•       utilization of air cooling system.
•       the original material distributing system.
•       independent sorting mode.
•       unique design of broadening sorting chamber.
•       spray nozzle
•       image acquisition system
•       Light source
•       three layer integrated structure design
•       cloud object link system
Technology Data:
| | | |
| --- | --- | --- |
| Model | TCSM64A | TCSM64B |
| Output(t/h) | ≥50 | ≥50 |
| Accuracy (%) | ≥98% | ≥99% |
| Voltage (V/Hz) | 220/50 | 220/50 |
| Power (Kw) | 0.7-2.0 | 0.8-2.0 |
| Air pressure (Mpa) | ≥0.4 | ≥0.4 |
| Consumption (L/min) | <1000 | <1000 |
| Weight (Kg) | 200 | 300 |
| Dimensions (mm) | 890*1110*1540 | 780*1485*1465 |
Sorting Technology of Tea Color Sorter Machine TCSM-64B:
1. Adopt double-layer design, reduce percentage of damaged seed and improve the purity of finished product; suitable for color sorting of various teas;
2. Adopt two sets of vertical feeding system and flat slide, the tea leaves can falls down more evenly;
3. Adopt a bus structure, with higher signal consistency and capability of resisting disturbance, better stability, and simpler structure;
4. Adopt real color 8.4 display; equipped with high-reliability four-wire resistance touch screen; correct location of touch screen at any time; user-friendly operation interface; simplified Chinese operation, simple and easy to learn;
5. Simple and easy maintenance; easy to replace the light source and magnetic valve.
6. Automatic malfunction indication and one key recovery function;
7. Highly corrosion resistant appearance, nice and durable.
---
Example of Sorting: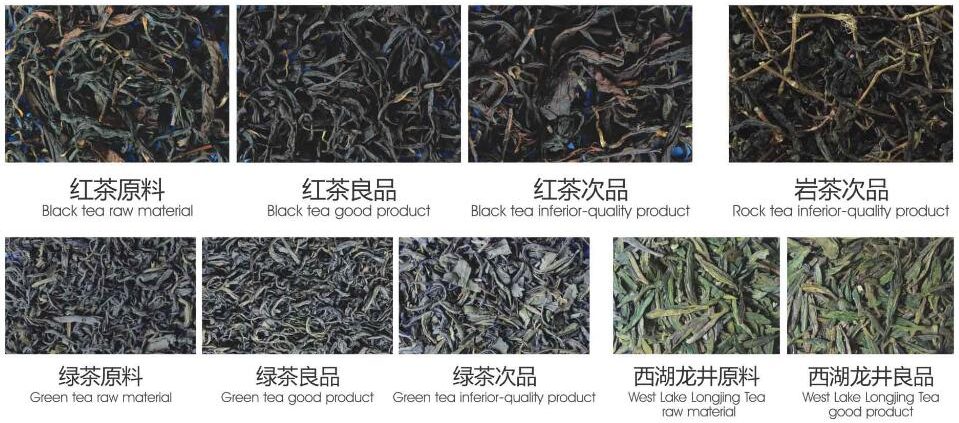 ---
Packaging & Shipping
Machines to be carefully packaged to endure transportation under harsh conditions. Handling instructions are designed to protect the machine in the critical moments during transportation, unloading and installation.
Delivery Time: 20- 30 Days after order confirmed.
Payment Terms: TT, Letter of Credit.
---
Commissioning and Installation:
1. On Site Installation and Training Service by our professional engineer ;
2. Study and Learn the Machine Operation in Our Factory.
3. Responsive in 24 hours: Telephone, Email, Video or On Site Solutions by our Technical Experts.
---
After Sales Services: 
• With presence in a variety of countries, Metak is strongly committed to being close to the customer.
• Through cooperation with loyal and carefully evaluated and trained local employees and partners, Metak managed to provide fast, competent and rooted services in the context of customers.
• Application center in Hefei production base offer demo machines for tests and comparison.
• A strong central technical team in Hefei is supporting local channels with training, advice and technical support.
• Under normal working circumstances, Metak machines enjoy 1 year of full warranty and a lifelong warranty on the machine structure upon the date of purchase.
• Service line is available for emergency support.
• Metak products will be serviced and supported wherever customers are located.
• Through the global Metak network and from Metak technical experts, training on Metak machines is available worldwide.
Metak Tea Color Sorting Working Video
How does the Metak Color Sorter Machine Work?
According to the different color selection of materials, detecting the colors of the granular materials that pass before them, and using mechanical or pneumatic ejection devices to divert the material whose colors do not fall within the acceptable range.
Suitable tea sorting and grading: All kinds of tea leaves.
---
How Metak Color Sorter Machine Can Help you?
1. A Quality and Professional Color Sorter Supplier, Save your Money and Time.
2. Recommend a Better Solution only Meet Your Requirement: Raise the Output and Accuracy with Lower Cost.
3. Perfect After-Sale Service: On Site Installation; Engineers Training Course till You Learn; Video Instruction Guide; Response in 24 hours.
 Get Your Solutions with Metak Color Sorter, Inquiry us NOW!
---