Plastic Flake Sorting Machine for Recycling
Plastic Flake Sorting Machine for Recycling
Metak produce belt type plastic color sorter machine, which is  special to sort and separate different colorful plastic recycling flakes, pellets and granules in twice for higher sorting accuracy.
Technology Data:
Model
BCS1280B
Sorting Channels
BELT TYPE
Output(kg/h)
1.0 -2.5 ton per hour ( depends on your samples that test in our factory )
Carryover(bad:good)
>15:1
Accuary(%)
>99
Power
380V, 50HZ, 1.6-2.6KW
Air Pressure(Mpa)
0.6-1.0
Consumption (L/min)
<2048
Weight (Kg)
1360
Dimensions(mm)
3108×1986×1680
Main machine, Ejectors, LED Light
1 year quality guarantee and supply free spare parts.
---
Plastic Flake Sorting Machine for Recycling Features:
1. Intelligent CCD multi function belt-type color sorter can not only meet the range of chute type color sorter, but also can sort the material for ethereal, irregular, easily broken, highly-moist material, which have solved the small gravity speed caused by light weight of these special materials.
Recommended Applications: Recycled Plastics, Best for light PVC, PP.
2. The belt speed can up to 4m/s, which can effectively meet the requirements for the sorting output.
3. 2048 full color line scan technology, combining the material's colors and the shapes, it can provide "color sorting+ shape sorting" for different materials, a varieties of sorting modes can be set freely.
Metak optical color sorter is designed to deliver dependable performance in the most challenging of sorting environments:
• Operating system and feeding system.
• Original natural-blowing nozzle and valve-driven mode.
• Unique air-suction and ventilation system.
• Super wide conveyor belt.
• Light source processing system.
• Operating system.
• Ventilation cooling system.
• Image processing system.
Recommended Applications:
PE, PVC, PP, recycling plastics
---
Example of Sorting: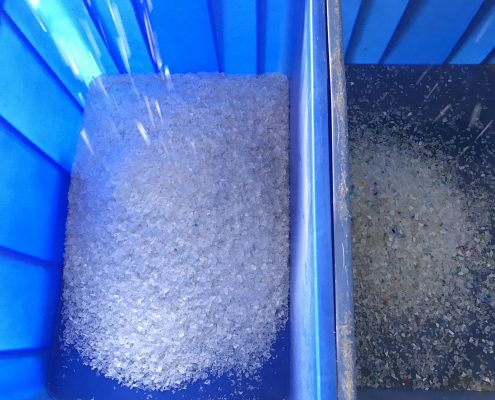 Second_sorting_performance_metak_plastic_sorting_machine
---
Packaging & Shipping
Machines to be carefully packaged to endure transportation under harsh conditions. Handling instructions are designed to protect the machine in the critical moments during transportation, unloading and installation.
Delivery Time: 20- 30 Days after order confirmed.
Payment Terms: TT, Letter of Credit.
---
Commissioning and Installation:
1. On Site Installation and Training Service by our professional engineer ;
2. Study and Learn the Machine Operation in Our Factory.
3. Responsive in 24 hours: Telephone, Email, Video or On Site Solutions by our Technical Experts.
---
After Sales Services: 
• With presence in a variety of countries, Metak is strongly committed to being close to the customer.
• Through cooperation with loyal and carefully evaluated and trained local employees and partners, Metak managed to provide fast, competent and rooted services in the context of customers.
• Application center in Hefei production base offer demo machines for tests and comparison.
• A strong central technical team in Hefei is supporting local channels with training, advice and technical support.
• Under normal working circumstances, Metak machines enjoy 1 year of full warranty and a lifelong warranty on the machine structure upon the date of purchase.
• Service line is available for emergency support.
• Metak products will be serviced and supported wherever customers are located.
• Through the global Metak network and from Metak technical experts, training on Metak machines is available worldwide.
---
Metak Plastic Flake Sorting Machine for Recycling Video Short
How Metak Plastic Sorting Machine Works?
According to the different color selection of materials, detecting the colors of the granular materials that pass before them, and using mechanical or pneumatic ejection devices to divert the material whose colors do not fall within the acceptable range.
---
How Metak Belt type Plastic Sorter Machine Can Help you?
Improving your profitability:
Highest quality production
Lowest product loss
Diverse products, any contaminant
Minimal product damage
Low operating costs – long term warranty
Optimum recovery rates
Enhancing your productivity:
Minimum operator skills
High uptime
Quick and easy installation
Maintenance from remote locations
For consistency in production
Effective in harshest environments
Get Your Solutions with Metak Plastic Color Sorter Machine, Inquiry us NOW!
---
Check More Images of Plastic Flake Sorting Machine: